FACS in the news
Subscribe to posts
By Catherine Gewertz on April 17, 2018
Students who take a lot of career-and-technical-education classes in high school are hard workers who are less likely than their peers to skip class, a new study shows.  Issued Tuesday by the American Enterprise Institute, the paper takes on the stigma of career-tech-ed students as "unmotivated, uninterested in academics, and unfocused."
The AEI paper assembles data that show that students who take a lot of career-tech-ed courses work harder in some ways than students who take few or none and have stronger "noncognitive" skills—sometimes called "soft skills"—as well.
To gather their information, co-authors Albert Cheng and Collin Hitt used survey responses from the Educational Longitudinal Study of 2002, a federal database that tracked 15,000 10th grade students from 2002 to 2012. Surveys probed students' habits and self-concepts, and asked teachers to describe student behaviors such as being attentive and completing homework.
Cheng and Hitt compared responses for students in traditional comprehensive high schools who took—or didn't take—CTE courses, and students who were enrolled in full-time vocational-technical high schools. 
They found all groups equally attentive in class, and equally likely to finish their homework. There was little difference in their willingness to work hard to earn good grades, although students who took the heaviest CTE loads of eight classes or more by the time they were in 12th grade—were a little less likely to show that kind of hard work.
But students who take five or more CTE classes are much less likely to skip class. And they put more effort into routine tasks, like taking a long survey, than peers who took little or no CTE.
The AEI team also found some justification for the "nonacademic" stigma about CTE students. As other researchers have noted, students who take a lot of career-tech-ed classes typically score lower on standardized tests in math and English. They tend to see themselves as less capable and report lower levels of motivation in those subjects.
But students who take a lot of CTE courses in traditional comprehensive high schools are more likely to graduate from high school than students who take few or no such classes. They also earn more by their mid-20s than their non-CTE peers. Students who take a lot of CTE courses in a full-time vocational-school setting are more likely to be working full time (and thus earning more) by young adulthood than peers at traditional high schools.
"In sum, CTE course takers have on average higher noncognitive skills, compared to otherwise-similar students," the paper says. "This conclusion belies the image of these students as unmotivated and unfocused, and it belies the stereotype that CTE programs recruit substandard students. To assess the true value of CTE programs, one should look beyond their participants' test scores."
http://blogs.edweek.org/edweek/high_school_and_beyond/2018/04/study_tackles_stigma_career-tech-ed_students.html
UEN Cheese Science and partners are pleased to announce its 2nd 
annual cheese making contest. The competition is open to any Utah 
student enrolled in a public high school or secondary degree 
program.
Last year UEN collaborated with SLCCCulinary Institute to raise 
interest in higher education, culinary arts, science and career 
connections.
Contestants must enter in paired teams and may submit up to 2 
cheeses per partnership. Professionally trained judges grade all 
entries and provide each contestant pair with feedback.
Award-winning cheeses will be announced at the event on 10/20/15.
All cheese entries will become part of the cheese buffet that will be 
served to event guests following the judging.
- Entry Form deadline: 9/30/15
- Contest Orientations: 9/16/15 or 10/1/15
- Contest Judging & Awards: 10/20/15
Salt Lake Community College Culinary Institute
9750 South 300 West Sandy,Utah 84070
ENTER @ 
UEN.ORG/CHEESE Every entry receives a FREE gift : 3 issues of Culture:
2 POUNDS OF CHEESE MUST BE 
MADE FOR THE CONTEST. ALL 
CHEESEMUST BE MADE FROM 
PASTEURIZED MILK!
PASTEURIZED MILK - 
3 Gallons per team will be donated by 
- Harmons 
- Heber Valley Cheese
AVAILABLE@ORIENTATION 9/16 OR 10/1
Tips & Tricks
Visit: uen.org/ cheese
Contact a Harmons Cheese 
Monger for ideas and engaging 
cheese conversation!
Here is a link to a news article on " Home Economics classes defy stereotypes".  The article reviews the changes to Home Economics in California – where the FACS programs are still called Home Economics in the schools.  Enjoy the read.  
http://edsource.org/2014/home-economics-classes-defy-stereotypes/72066#.VKcW8mog_0I
MICHELLE MAITRE/EDSOURCE TODAY
Students study culinary arts in a state-of-the-art kitchen at San Juan High School in Citrus Heights.
Home economics classes defy stereotypes
The industrial kitchen displayed all the hectic activity of a reality TV cooking show.
Chefs tended anxiously to their creations – "Do these bread crumbs look browned enough?" – and kept a watchful eye on the progress of their teammates – "That whipped cream needs to be fluffy, fluFF-ie."
This was finals day for the seniors in the culinary arts program at San Juan High School in Citrus Heights. The teams of young chefs had 90 minutes to complete a menu of sautéed chicken breast with mustard cream sauce, rice pilaf, fresh broccoli sauté, and Danish apple trifle for dessert.
The flashy, industrial quality kitchen facility could be an incubator for the next Alice Waters or Bobby Flay. It also stands as a symbol of the changing face of home economics programs in California.
Once known as domestic education that raised images of young women learning how to be housewives, home economics of today is a popular career program that serves more than 160,000 students across the state. And it's not just about cooking lump-free gravy or sewing potholders.
MICHELLE MAITRE/EDSOURCE TODAY
San Juan High School senior Joshua deHaydu, 17, took culinary arts to learn how to cook.
The programs – formally called Home Economics Careers and Technology Education – encompass fields ranging from culinary arts and food service to fashion design, hospitality and tourism, child development, nutrition and interior design.
"I think a lot of people think more about the '50s or '60s stereotype, that home ec is all women learning house stuff," said Joshua deHaydu, a 17-year-old senior in San Juan High's culinary program. But don't get caught up on "stereotypes that used to exist," deHaydu, who has been a back-up left tackle and nose guard on the school football team, counsels, "because they don't really anymore."
Mindful of the stereotype, every other state has ditched the "home economics" title, renaming the courses Family and Consumer Sciences in an effort to reflect the evolving nature of the subject matter. California is the only state that still uses "home economics careers" – with an heavy emphasis on careers, said Tanya Wright, education programs consultant in the Agriculture and Home Economics Education Unit at the California Department of Education.
"It just wasn't the right climate in California to focus on family," Wright said of the national effort nearly two decades ago to rename the programs. "It was really to focus on careers."
Home economics has long been a staple in the California education system, dating back at least to 1917, Wright said. The early programs focused on life skills and home making. But a statewide shift in the late '90s and early 2000s toward career pathways in the high schools helped push home economics to their current focus, Wright said.
Today, home economics is offered as an elective at middle and high schools throughout California. Life skills are still a component of the programs, especially at the middle school level, where students may receive an introduction to nutrition, basic sewing and cooking, and first aid. Some middle school programs even offer babysitting training, allowing students to graduate with industry certifications in first aid and CPR, Wright said.
"Even as we focus on core academic areas, the things kids really want to do are the practical life skills," said Taudine Andrew, culinary instructor at Rocklin High School. "And these are not fluff courses."
At the high school level, however, the programs bear little resemblance to the home economics classes many may remember from their youth.
More than 800 home economic career programs operate in the state's 1,400 comprehensive high schools, offering career-oriented programs designed to introduce students to future professions, Wright said.
A program in San Diego, for instance, introduces students to careers in child development by putting them to work in an on-campus preschool, Wright said.
At San Juan High School, students participate in a three-year sequence of culinary courses and graduate with a California ServSafe Food Handler Card, an industry certification. Along the way, students will run a 75-seat restaurant on the campus and will help cater professional events, such as the 1,000-person holiday luncheon students catered in November at the California Department of Education.
MICHELLE MAITRE/EDSOURCE TODAY
A student whips cream for a dessert during her culinary arts final at San Juan High School.
The campus also offers a separate sequence in baking and pastry arts, where students learn cake decorating and other skills.
At nearby Rocklin High School, a newly launched hospitality, recreation and tourism pathway will offer students a three-year program covering all aspects of a career in tourism, from food preparation and service to hotel and restaurant management opportunities, said culinary instructor Taudine Andrew. The program will culminate in a capstone project requiring students to participate in job shadowing or another work-based opportunity in tourism.
The demand for the program, now serving 172 students in its second year, is huge, said Andrew, who had to turn away 100 students this year. The hook for the teenage students is the lure of free food, but once they're in, students receive an introduction to potentially lucrative careers in one of California's top industries, she said.
"People think about home economics and they think about cooking and sewing and crying babies, but the reality is hospitality and tourism are all under the umbrella," Andrew said. "We have a huge tourism industry in California and recreation and tourism are a major part of the economy. We're training kids to be part of those hospitality jobs."
The hospitality program expands on the home economics offerings previously offered at Rocklin High School. Students could take semester-long elective courses in childhood development and a course called "Living on Your Own," where students received a smattering of life skills – some cooking, personal finance tips, and information on healthy relationships and job skills.
GOING DEEPER
"Bring back home ec!"The Boston Globe opinion piece, 2013
"Who says home ec isn't a core subject?" Wall Street Journal opinion piece, 2013
Home economics careers and technology, California Department of Education
"Even as we focus on some of core academic areas, the things kids really want to do are the practical life skills," Andrew said. "And these are not fluff courses," she added, noting that the child development class met the "a-g" course criteria required for admission to University of California and California State University.
About 4.5 percent of the home economics technology programs offered throughout California currently meet a-g requirements, most of them in child development and education, Wright said. The number of courses submitted for a-g approval grows each year, she said.
Sandi Coulter, culinary arts instructor at San Juan High School, sees the courses as an important part of students' high school careers. The students learn something they'll always need – how to cook a decent meal – but also are introduced to other less tangible skills, such as teamwork, organization skills and the ability to take and follow direction.
"One of the things I see with students that aren't in pathways is that they don't really know how to do anything," Coulter said.
Those are some of the perks of home economic career programs, Andrew said.
"When we say (home ec) people think about their junior high school experience where they sewed a pillow and made Orange Julius and may have had to balance a checkbook, and we don't think about any of that as being relevant to our lives," she said. "But when we move away from that and toward the courses we're talking about, it becomes very relevant again. … You can take the skills from your basic cooking course or child development course and translate that into building a better home life and career for yourself."
Michelle Maitre covers college and career readiness. Email her or Follow her on Twitter. Sign up here for a no-cost online subscription to EdSource Today for reports from the largest education reporting team in California.
This article appeared on the Huffington Post website October 1, 2014 about becoming a Family and Consumer Science Educator. Check it out:
http://www.huffingtonpost.com/2014/10/01/home-economics-major_n_5906476.html?ncid=fcbklnkushpmg00000020&ir=Education
​
If you think hanging a diploma on your office wall means you have a complete education, this one perspective might just change your mind.
According to Chris Moore, Brigham Young University's director of the Family and Consumer Sciences program, "If you have your Master's degree and you can't live within your means or go home from your job and feed yourself a nutritious meal, you're not a complete graduate. Without [home economics educators], who teaches that? They need us as much as we need them," she told HuffPost Home.
And, based on College Board reports, there are about 187 colleges across the country offering similar programs that would probably agree with that sentiment. Though the field of study is perhaps most prominent at BYU, where 100 students (out of the 34,409) are enrolled as majors in Family and Consumer Studies, formerly known as Home Ec.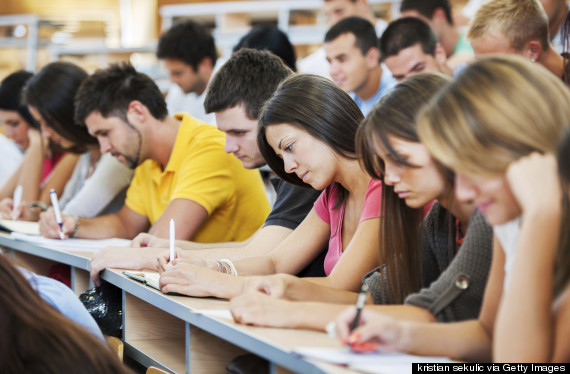 These students will graduate and go into schools to get public education jobs or teach about sewing, interior design, or personal management. Those who do not go into an education setting, however, sometimes take a "more entrepreneurial" approach. They will start their own business in the food industry, the apparel industry or go on to get another degree in interior design or a graduate degree in child development so they can work in these settings, Dean Busby, director of the School of Family Life at BYU, told HuffPost Home via email.
But despite popular belief, these students aren't just spending their days living out what Moore calls the old stereotype of "stitching and sewing." While there are courses such as "introduction to interiors," "textiles," "food preparation in the home" and "history of apparel" that are dedicated to these more traditional views of home economics, the program maintains a strong basis in STEM academics of science, technology, engineering and math, as well.
"We connect our curriculum in a way that shows how scientific principles, math and technology mainly, are used every day in the family and the home," she says, namely through the use of the latest appliances and machines as well as the current focus on issues such as home energy consumption and community disaster relief efforts, "We have fought 100 percent to show that we teach science in the home and we are a viable compliment to the STEM program through our course integration."
Other courses students in this major can enroll in include the more historically scientific-based options such as "biological foundations of human development" and "cognitive development." And, because there is "economics" in "home economics" after all, students also have the choice to take courses including "family finance" and "money in the family," which can actually help set the foundation for a financial planning or financial literacy focused career.
But what if you're not committed to majoring in home economics? Well, just like most colleges, students in other programs will dabble in a family and consumer sciences course or two, says Busby. "Our cooking, sewing, interior design, and family finances courses are very popular and many students outside of our majors take these classes each year as electives."
And whether it's taken as a major, minor or just for a few extra credits, Moore says the objective is still the same. "Without [home economics] as a counterpart to your academic education, you're really not educating the whole person."
Check out this great newspaper article that was published in the Daily Herald for all of Utah county.  It is a great article that highlights the skills students learn from FACS and FCCLA that changed lives.

http://www.heraldextra.com/news/local/south/salem/shhs-student-creates-project-for-preschool-teachers/article_964af3a1-2a8c-502c-adc2-77e199183d5d.html#.U7RRWqq50-k.email
Ashley Chidester and Shalese Black
of Maple Mountain High School present their FCCLA project at BYU in Provo on Wednesday.
SALEM -- Three teens from Nebo School District are headed to the National Leadership FCCLA Conference this weekend to present their STAR projects (Students Taking Action with Recognition) before a panel of judges.
Milani Lau of Salem Hills High, and Ashley Chidester and Shalese Black of Maple Mountain High, will be representing the south county with their projects on interpersonal communication and family budgeting. The convention will be held July 5-11 in San Antonio.
Lau's individualized project was intended for preschool teachers, providing information about the non-verbal language of preschool children and suggestions on improving scenarios in which a child becomes bored or restless. At the state competition in March, Lau, 17, placed first in her category for her two-part presentation: a poster board designed for preschool teachers and a PowerPoint display.
"I suggested to have several larger motor activities, called 'wiggle removers,' planned or ready to do if the kids were restless or not paying attention," Lau said. "The teachers should be proactive and take care of problems quickly.
"Another major thing I included was the teachers' body language and how it affects the children's behavior."
Lau feels FCCLA has helped her develop communication skills and self-confidence in presentations. Through her involvement, she has participated in several service projects and forged friendships with students from throughout the state.
"Honestly, I didn't even know what 'interpersonal communication' was before this project," she said. "Now I know several techniques to solve conflicts between a group of people with proper communication, and how to speak and interact with people while getting the correct message across."
Lau's project and membership in FCCLA has narrowed the scope of her future career, which she can now see clearly is the field of education. Traveling to the national conference will be an especially unique experience as she has never been on an airplane.
"I am super excited to fly to San Antonio," Lau said. "The thing I look forward to the most is being able to meet people from around the country who share common interests."
Chidester and Black will be attending with their cooperative PowerPoint presentation of their plans for their senior trip to Hawaii. Using skills obtained in FCCLA, they planned the trip by comparing prices, researching hotels, airlines, and activities, and utilizing their resources. They budgeted the trip to cost $5,000 each, and though their parents intend to contribute, the girls are both working to earn more than half the necessary funds.
"I teach piano lessons, and in the summers I have a job picking cherries," Black said. "I have almost $1,000 saved already."
Chidester has been earning money via hours and hours of babysitting and hopes to get another job this summer. The decision to vacation in Hawaii had much to do with the heritage of her mother, who is a native of the islands.
"We're really looking forward to going to the Polynesian Cultural Center," Chidester said. "We want to try a kalua pig and see professional hula dancers."
To personalize their experience, Chidester and Black budgeted for surf lessons and a tour of the Dole Pineapple Factory.
Many local students gathered June 18 for a practice session for nationals and to display their hard work for the Family and Consumer Sciences Conference held at the Wilkinson Center at Brigham Young University. Forty students from Utah County will be attending nationals, displaying skills in interior design, quilting, sewing, culinary arts and various service projects.
Chidester and Black attended the session, rehearsing their presentation and answering questions from attendees for nearly four hours. Their detailed and interactive presentation earned a gold medal at their region competition, one that included all of Nebo and Alpine School Districts, and earned a gold medal and first place at the state competition.
First-place winners receive $300 from the state to contribute to the travel expenses for the national competition.
Copyright 2014 Daily Herald. All rights reserved.
Is it time to bring back home ec classes? Here is a link that showcases Family and Consumer Sciences today:  
http://tun.in/tft5KC
!
(Originally aired June 26, 2014)
Twenty-five high school ProStart teams throughout the state of Utah competed in the State ProStart Competition finals held at Thanksgiving Point. Amongst the fierce high school student competitors were representatives from the Utah Restaurant Association, teachers, family, and friends. Teams were nervous, but
Read Full Utah CTE Blog
High schoolers could use some lessons on personal finance and nutrition
Fear not! This is not your grandmother's home ec.
(Fred Morley/Fox Photos/Getty Images)
At many middle and high schools across the U.S., home economics — now known as Family and Consumer Sciences (FCS) — has all but disappeared from the curriculum. In 2006, only three states required students to take some kind of FCS class in junior high or high school, and the classes, which used to last a full year, are often just nine weeks long,
said Ruth Graham in a recent Boston Globe op-ed
.
It's easy to see why. What started as a serious, scientific subject is now often considered something between a waste of time and a kitschy throwback to a simpler era. Budget restrictions and changes in consumer habits have devalued cooking and housework skills, and the fact that girls now have the same career goals and aspirations as boys makes the traditionally girl-dominated subject seem almost offensively outdated.
Another problem: The lessons that once made home ec "essential" are now almost too elementary for even elementary school.
"When few understood germ theory and almost no one had heard of vitamins, home economics classes offered vital information about washing hands regularly, eating fruits and vegetables, and not feeding coffee to babies, among other lessons," said Helen Zoe Veit in a 2011 New York Times column, "Time to Revive Home Ec." She goes on:
Eventually, however, the discipline's basic tenets about health and hygiene became so thoroughly popularized that they came to seem like common sense. As a result, their early proponents came to look like old maids stating the obvious instead of the innovators and scientists that many of them really were. Increasingly, home economists' eagerness to dispense advice on everything from eating to sleeping to posture galled. [The New York Times]
Yet unhealthy eating, for example, plagues today's youth more than ever, bolstering the case that some of the essentials still need to be taught.
A few recent columns have addressed this problem, and advocated a revamped version of the old class. Here, two ways mandatory home ec could help a generation of youngsters.
It could help fight obesity
It's no secret that almost a third of Americans under 19 are either overweight or obese, nearly triple the rate in 1963. In just the last couple decades, childhood obesity has outpaced drug abuse and smoking as the number one heath concern for U.S. parents, says The American Heart Association.
Besides the well-documented health effects of childhood obesity — most notably a greater risk of high blood pressure, type 2 diabetes, and cardiovascular illnesses later in life — doctors have found psychological risks, as well. "Obese children are more prone to low self-esteem, negative body image, and depression," says AHA.
The causes of childhood obesity are complex and numerous, including the rise of agribusiness, aggressive marketing of not-so-healthy snacks, and squishy health standards for school lunches. Meanwhile, busy parents are picking up food on the go, and awareness efforts like Michelle Obama's "Let's Move" campaign have politicized the issue, alienating families who think the government is getting too involved in private choices.
"But what if the government put the tools of obesity prevention in the hands of children themselves, by teaching them how to cook?" asks Veit.
It's a good question: The class that first taught kids to eat fruits and vegetables could…teach kids to eat fruits and vegetables. Meanwhile, basic cooking skills could arm kids with a second option to fast food, and even teach them skills to show off at home. "[I]magine a home ec that taught basic skills like how to prepare a simple pureed vegetable soup, whip up a quick, easy, and much-cheaper-than-bottled salad dressing, or stock up a pantry with inexpensive bulk staples?" asks Tom Philpott at Mother Jones.
It could teach kids about personal finance
The "economics" part of home ec used to focus on "how to balance a checkbook" — a skill about as useful today as canning peaches. But financial challenges haven't disappeared — in fact, they've grown more complicated. High school students headed for college will soon be managing enormous student debt, an issue their parents and grandparents may not have faced.
"As pensions disappear, Americans are increasingly responsible for setting up their own retirement plans; credit card offers and student loans are complex decisions with lifelong repercussions," says Graham. Basic budgeting and investing principles, as well as skills like choosing the right credit card, are modern-day "essentials" that home ec could help instill.